Experience is not what happens to a man; it is what a man does with what happens to him. Aldous Huxley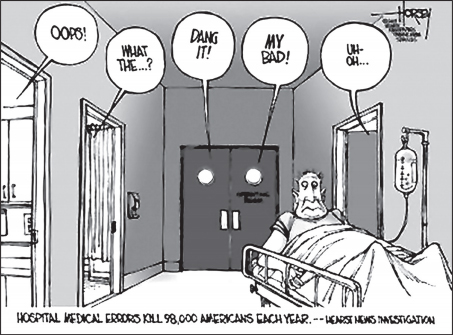 There is a growing interest in proactive approaches to safety management, where we put systems in place to ensure safety, rather than responding only after things go wrong. In healthcare today, we tend to wait for the harm to happen. We record the number of times that something bad occurs – the 'never events' (things that should never happen) and other serious incidents.

These reactive approaches to safety and harm tend to lead to a 'check and correct' design. They do reduce harm, but they create complex, slow and inefficient processes. Proactive safety management, on the other hand, involves preventing the harm from happening in the first place. If we design and create systems to ensure that they are efficient, lean and fundamentally safe, this will help to protect patients far more effectively.


The big picture
Most of the 'niggles' in healthcare are design flaws, such as poor scheduling, policies that generate variation, excessive complexity, and multiple handoffs. Trying to fix problems one at a time results in a piece-meal job, which often creates new unanticipated hazards. This is why it is important to look at the way the whole system functions, where we study not only the individual parts, but also the relationships between the parts.
System Designers start with a blank sheet of paper, asking very basic but pointed questions like 'What are we trying to achieve?' 'What does this piece of equipment have to do?' and 'What's the best way for this team to achieve this task?'
There are three basic elements to improving safety:
* Design the system to prevent errors occurring in the first place
* Design the system to make errors more visible when they do occur
* Design the system to limit the effects of errors so that they do not lead to harm.
Mistake-proofing is the use of process, or design features to prevent error from being translated into injury. Errors will continue to be made. Accidents, on the other hand, can be prevented by using additional cues that avert errors, or announce that an error has occurred, so that it is possible for the error to be corrected before damage has been done.
For example, medical gas connections undergo extensive mistake-proofing. Not only are medical cylinders color coded, their pin index safety system (PISS) is designed to ensure that the cylinder will only connect to the correct tubing, thus preventing inadvertent delivery of the wrong medical gas to patients.
Similarly, not only will the software operating a ventilator alert us before it fails, the ventilator also includes a back-up battery and alarms, all of which are part of safe system design. Human factors engineering (HFE), the applied science of systems design, looks at the conditions under which humans operate, and tries to optimize the interfaces – between a person and the technology; a person and his environment; and a person and the other people in a team - in a way that enhances human performance. Usability testing allows specialists to identify error- prone devices or systems before they lead to harm.
No matter how smart and well-intentioned we are as clinicians, we cannot change our human frailty. We are not mindless automatons, but by improving the conditions under which humans operate, we can reduce the risk for mistakes. The initial focus of HFE in healthcare was on the design of medical devices. Today it has evolved and become broader, and includes efforts to create safe environments of care, by designing hospital rooms around safety principles; and to decrease errors associated with poorly designed clinical information systems.
Errors as seen through the eyes of system designers
Environmental factors that contribute to error include: distractions and interruptions; noise; clutter; and poor lighting. The working environment in a hospital can be remarkably turbulent and chaotic, and this adds to the challenge of keeping patients safe. Stress increases fatigue and contributes to errors. Hospital architectural design can reduce stress for patients, families, staff, and physicians. Noise reduction, natural light, a view to the outdoors with a glimpse of nature, and calming elements inside the hospital are all important contributors to stress reduction. They enhance the calm, healing aspects of the hospital environment and this can help to improve patient safety and aid recovery.
Human factors that contribute to error include: fatigue; emotions such as boredom or frustration; stress and distractions; and poor communication. For example, the night duty resident falls asleep and does not check the lab result; the clerk may make a typo in filling out the discharge summary, due to boredom; the doctor may forget to enter an order because he is interrupted by a call on his mobile; and the nurse may leave the discharge file incomplete due to an inability to find all the needed papers.
Patient factors that contribute to error include: poor literacy; fear; and ignorance. For example, a patient cannot afford to buy the prescribed medicines due to poverty; or a patient does not understand instructions due to a language barrier.
Equipment factors that contribute to error include: confusing design; poor quality; unclear labeling; inadequate training; and lack of availability. For example, a patient gets the wrong heparin dose because the nurse does not know how to setup the syringe infusion pump; or the patient gets the wrong chemotherapy dose due to confusing labeling; or the doctor does not wash his hands because there is no soap available.
System factors that contribute to error include: shortage of staff; inexperienced staff; inadequate supervision; and poor workflow processes. For example, the doctor does not see the patient when he is transferred from the ICU to the ward in a timely fashion because of inadequate communication between the ICU nurse and the ward staff.
Reliability and standardization
Reliability is the cornerstone of patient safety and we can learn this from high-reliability organizations (HROs) such as NASA (National Aeronautics and Space Administration), which emphasize standardization and simplification. Today there's too much variation in health care practice, and this adds unnecessary complexity to an already incredibly complicated and fragile health care system.
Everybody supports standardization—in theory. The trouble is that all doctors want things to be standardized their way! Standardized medical practice guidelines offer a framework which doctors can use as a reference. They can modify these, as needed, based on two things only: the patient's preference, and the patient's clinical condition. Variation based on the patient's condition is at the heart of "the art of medicine"; and adjusting our approach based on the patient's preference is about the "art of service."
Technology-A boon or bane?
Technology can both help and harm. One example where technology has helped involves counting sponges after intra-abdominal surgery. Sponges can be radio tagged so we can wave a wand over the patient after the nurse performs the sponge count to verify whether the count is correct. In this case, technology is acting as our backup, providing information that helps us reduce human error before it potentially causes harm.
The flip side might be a medication alert system that warns a doctor about a drug that may interfere with a medication the patient is already taking. However, when there are too many of these reminders and alerts, this results in alarm fatigue. The doctor learns to ignore them, and when there's a critical alert, he might ignore it because he's learned over time to tune out the multitude of false warnings.
Make safety a habit
This is why it's so hard to put safety first in real life. We tend to ignore alarms because of "noise"' ; we let our guard down over time; and we bypass safety practices when they are costly or inefficient. It's easy to get lulled into a false sense of security when nothing bad happens over a long time. We start assuming that we don't need to worry about making errors because our systems work well, and that preventing errors is someone else's problem, and not ours. However, this kind of complacency and hubris can be dangerous.
Research has confirmed that human factors play a huge part in the system failures that cause harm to patients. Many of the problems that regularly turn up in root cause analysis are attributable to the unavoidable and inevitable propensity for humans to make errors. These could be:
* Assumptions
* Complacency
* Lapses in judgment
* Failures in communication
* Decisions made in haste
* Physiologically induced issues such as stress, fatigue and hunger
One way of understanding how human factors influence the quality of care is to ask the questions 'Is it easy to do the right thing?' and 'Is it hard to do the wrong thing?' Poorly designed processes encourage shortcuts and 'workarounds'- for example, if disposable gloves are not easily available at the bedside, the staff may draw blood without using them, subjecting themselves to the risk of a needle stick.
These non-standard, temporary fixes mean that the staff is being forced to break a safety rule in order to get their work done. If safety rules are being routinely violated, this means processes are not working properly and these need to be fixed. Frontline staff should be equipped and empowered to make changes and bureaucracy that prevents staff from improving services needs to be stripped out.
Redundancy should also be built into the processes, so that a failure in one area does not lead to catastrophe, but is caught by a secondary (redundant) check. In order to design hospitals to serve patients better, we need to learn to look through the patient's eyes. Design should start with the people we serve and we need to include patients in the design and delivery of services. Patients are often the best placed to identify things that are not working, and will often have clear and direct ideas on how to improve them.
Another way of putting patients first is to use the technique of shadowing. Patients and families can be shadowed by an observer during their medical journey to find out what can be improved. Admission, transportation, triage, communication with nurses and physicians, and discharge all are scrutinized to see if they fall short of ideal care. Shadowing offers repeated real-time observation of every segment of the care experience. When this is done by a senior doctor, it provides the emotional connection that creates the urgency to drive change.
Making outpatient care safer by putting patients first Until recently, the patient safety field's focus has been on hospital safety. Attention is now shifting to outpatient care. While the scope for serious and life-threatening errors within a hospital is far more, the number of errors which occur in ambulatory care in the clinic is far larger. Delay is a huge issue identified by patients across the system – they waste too much time waiting. Healthcare that is based around patients going to different clinics to see various specialists is inconvenient and unhelpful for patients.
It is no coincidence that healthcare organized in this way is bedeviled by wastage in the form of missed appointments, patient non-adherence with treatment, missed diagnoses and multiple instances of 'repeat work'. It creates a culture of dependency and increases the number of interactions between chronically ill patients and their healthcare providers. All this ultimately increases the likelihood of harm caused by healthcare, as patients are more likely to fall in between the cracks.
We need to ask patients for their opinion – they can identify 'gaps' in the system and show us the places where communication should be improved. The US is now experimenting with the "patient-centered medical home or PCMH" in order to improve patient safety. You can read more about this initiative at https://www.safetynetmedicalhome.org/about-initiative. Implementing care teams is a critical element of transforming a medical practice into a patient-centered
medical home (PCMH).
In the team-based care model, all care team members contribute to the health of the patients. For example, nurses can do home visits, the receptionist can remind patients about follow up appointment, assistants can provide patient education, and pharmacists can ensure that medications are being supplied in a timely fashion.
The TEAM-UP approach
Enlightened doctors who want their patients to become a core part of the medical care team use the TEAM UP approach to successfully engage with their patients. TEAM UP is an acronym they teach their patients to remind them what they need to do optimize their care.
* Team together
– Team up with the members of your medical care team and get involved in the decisions that affect you.
* Educate yourself
- While getting care, you may interact with many people—each with their own role in delivering your care.
* Ask questions
- Make sure you can answer these questions: • Can I identify my Situation or what is going on with my care now? • What Background information do I need to understand the situation? •What is the Assessment or the options to consider?
* Manage your medications
- To receive the full benefits of your medications, you should
understand what each medication is and what it is prescribed for, as well as any possible side effects.
•Do I know what my care team's Recommendations are for the next steps?
* Understand changes in the game plan
- Make sure you're fully aware of how the plan has changed, why it has changed, and what your role is now.
* Provide your perspective
- When something doesn't feel right, you should tell the members of your care team. The more they know, the more they can help.
As doctors, we need to recognize that we are constrained by our own human limitations. Good design can compensate for this, and reduce the capacity for error that we are all prone to. As an additional bonus, implementing people-centered design hel
ps to counteract the possibility for systems to become impersonal, rigid and uncaring. The good news is that we can shape our systems around people, and when we do that, we can be assured that we are genuinely meeting the needs of the people we care for. As Reason explained, "We cannot change the human condition, but we can change the conditions under which humans work."