Making mistakes is human . Repeating 'em is too. Malcolm Forbes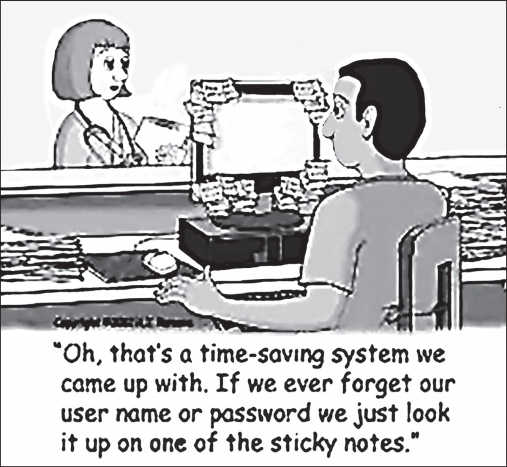 EMRs
Medical records can be very valuable in preventing errors. However, old-fashioned paper- based records are no longer viable, not only because they are highly prone to human errors themselves, but because it is so hard to collate and analyze the data which is locked up inside them. This is why EMRs or electronic medical records (also called EHRs or electronic health records) have become so popular.

Improved digital communication reduces errors by making key medical data (such as the medical history and lab reports) available to the doctor at his fingertips, 24/7. EMRs tend to record and expose patient safety problems when they occur, while paper-based care buries them.

EMRs can help reduce medical errors by using artificial intelligence . For example, automatic alerts can be triggered when there is a possible toxic drug interaction, and the doctor is "reminded" about these risks, thus reducing the potential for errors. While these alerts can be life-saving, one of the great challenges of these clinical decision support systems (CDSS) has been alert fatigue, as clinicians tire of being repeatedly bombarded by electronic warnings, and start to ignore the important ones, thus allowing errors to creep in.

One of the problems which plague EMRs is that of GIGO (garbage in = garbage out). In order to make sure that errors do not creep into the EMR, it's helpful to share this with the patient, so she can check them and make sure they are accurate. Many EMRs now offer a patient portal through which the patient can access her records. Patients should be encouraged to contribute to their EMR, so that these provide a holistic picture of her illness.

One huge advantage of electronic records is that they allow us to analyze the data from millions of patients after it has been anonymized and collated. Big data analytics can then be used to track trends and this can help to improve safer medical care. For example, epidemiologists have been able to track the spread of infectious diseases such as influenza, using Twitter to track health trends in real time, and this can help safeguard the public's health.

However, it is naïve to assume that adopting EMRs will be a bed of roses. The successful implementation of health IT "is not a technical project, it's a social change project." It is the environmental and organizational factors, rather than the digital wizardry itself, that will determine the success and impact of digital health tools. This phenomenon is known as the "productivity paradox" of information technology.


Some crucial issues:


** Clinicians need to become familiar with new EMR systems and this will take time. The older senior physicians are still digital dinosaurs and because they are computer-phobic, they will often resist this change .

** EMR systems themselves need to evolve and improve, so that they don't interfere with clinical workflow. Doctors should be able to customize the screens to suit their clinical style, otherwise they will resist using software which is not designed around their personal preferences.

** One major problem is that EMRs may cause care to become impersonal. The doctor is so focused on making sense of the data on the computer screen that he is not able to establish eye contact and rapport with the patient.

** Many EMRs still function in silos, and their data is locked up inside them. They need to be made interoperable, so that they can exchange data and "talk" to other EMRs. The Govt of India, Ministry of Health and Family Welfare (GOI MoH & FW) has published the 'Electronic Health Records & Healthcare IT' (EHR and HIT) standards for Healthcare Providers in September 2013. It has also announced the formation of a Regulatory Body – NeHA (National eHealth Authority for India), which will make these standards mandatory. The website at https://www.nhp.gov.in/electronic-health-record-standards provides updated information about this dynamic area.


Digital technology as a safety net
Today, it has become possible to remotely monitor in real time a patient's health using a network of sensors and actuators , many of which can be used with her smartphone. This is called the Internet of Things for Medical Devices (IoT-MD), and provides an environment where a patient's vital parameters are transmitted onto a secure cloud based platform, where it can be stored, aggregated and analyzed. Armed with this data, we can now come up with a number of clever ways to help keep people safer. For example, it's possible to use webcams to monitor the elderly, so that if they trip and fall at home after hip surgery, they can receive medical assistance promptly.

A number of diabetes apps now help diabetics to control their blood sugar levels much more effectively. Other smartphone apps help to improve patient compliance, by reminding patients to take their medicines on time, thus improving medication adherence. This creates a safety net which reduces chances of medication errors.

Digital technology is being used in other clever ways to help improve patient safety. Thus, a range of software tools have been developed to help radiologists recognize subtle abnormalities in mammograms, and this helps in the early detection of breast cancer. Similarly, the ThinPrep Imaging System combines the power of computer-assisted screening with human diagnostic experience, to study Pap smears. This helps in picking up cervical cancer early.

Telemedicine is also contributing in a big way to help keep patients safe. For example, patients can take dialysis treatment at home , and a medical team remotely manages the procedure. Not only are the chances of acquiring a hospital-borne infection fewer, but the costs are also markedly reduced , and patients enjoy a better quality of life because they are in control. Cutting-edge telemedicine has been used to make care in Intensive Care Units ( ICUs) safer in the USA. Because of a critical shortage of critical care physicians or intensivists, many ICUs don't have a full-time intensivist on staff. This is why hospitals are now using virtual intensivists to keep 24 hours vigil over the critically ill patients in the ICU using remote ICU monitoring programs. These "eye in the sky" doctors can reduce mortality rates for ICU patients as well as their length of stay, while also providing significant cost savings. The new generation of smart computers (such as IBM's Watson) apply artificial intelligence ( AI) based on deep machine learning , and can serve as a peripheral medical brain for doctors. They can help to reduce diagnostic errors by generating a comprehensive list of possible diagnoses, thus reminding doctors of conditions they may have overlooked.

On a much more basic level, an increasing number of physicians are now using smart phones in their professional activities to communicate with their colleagues to get a "digital curbside consultation"- for example, by sharing Whatsapp images of an unusual X-ray image or a puzzling ECG tracing, to get a second opinion. The danger

While digital health has tremendous theoretical appeal, its history has been characterized by a surprising number of failures and unanticipated consequences. For example, like all IT systems, digital health can become a very efficient error propagator if incorrect data is entered. Whenever one introduces a technology to reduce one kind of error, one is likely to introduce the possibility of new kinds of error.

While computers help to prevent medical errors, they are also causing new kinds of mistakes, some of which are whoppers. Sensors and monitors generate mountains of data, often leading to more confusion than clarity. Overload causes the brain to tire, and that's when medical staff start cutting corners.

The term multitasking is a misnomer, and performance degrades rapidly when clinicians try to do several things simultaneously, because of the cognitive trap of inattentional blindness (focusing so much on one thing that they miss another). This becomes a fertile breeding ground for error. One of the ironies of automation is that over reliance on technology can paradoxically increase the possibility of error through reduced vigilance.

Because of the false sense of security which electronic monitoring engenders, the medical staff starts allowing the machine to overrule the evidence of their own eyes, and this can endanger patient safety. Extensive testing in real settings is the only way to tackle these vulnerabilities.