From the errors of others, a wise man corrects his own. Publilius Syrus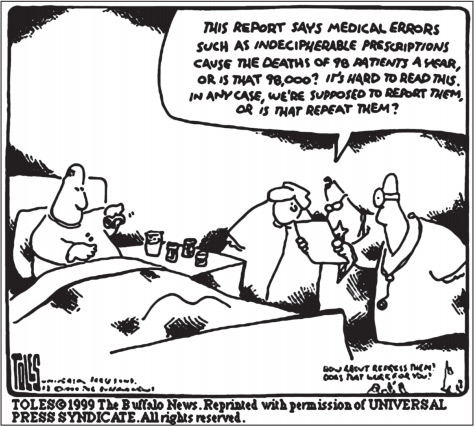 In this day and age, when we pop pills so casually, we often tend to forget that medicines contain powerful chemicals which should be consumed with caution. Not only should drugs be of good quality, safe, and effective, they also must be used sparingly and rationally.


How pharmacists can help
A pharmacist (chemist) can play a vital role in ensuring the safe use of medicines by educating patients and their families. We need to remember that he is not just a shop-keeper who sells drugs; he is a trained professional, who can provide vital information on the prescribed drug, such as the correct dosage; when it should be taken (morning, afternoon, evening or night); and how ( on an empty stomach/before meals/after meals).

Ideally, he should educate patients and their relatives, both orally , and in writing. Generally, a physician who is preoccupied with his daily case load may not have the time to advise patients on the safe use of various drugs. In a country like ours, where the doctor-patient ratio is so skewed, most patients do not get enough time to spend with the doctor.

The wait list can be so long that doctors usually rely on their receptionists to hand over the prescription, and answer the patients' queries Such a dangerous practice can cost both the doctor and the patient dearly when the instructions gets garbled during transmission!

However, a pharmacist is an independent professional . He is a specialist on drugs, and he should remain vigilant about the irrationality of any drug combination. He can alert the doctor and the patient, if he detects anything amiss in the doctor's prescription. He can prevent harmful drug interactions, because he has a complete list of all the medicines the patient takes on a daily basis. To reduce the risk of drug toxicity, a number of drug information centers (DICs) have been established. Pharmacists can access these for unbiased drug information.

The information provided by DICs is reliable, evidence-based and current, and this can help to reduce the harm which medicines can cause.

When the right patient takes the right medicine at the right time in the right dose at the right price, we can say that drug use has been rational. The pharmacist can play a key role in ensuring this. Common types of irrational use of drugs which can harm the patient include: * Self-medication

* Drug overuse, because of easy availability of drugs without a medical prescription

* Misuse or improper use of antibiotics

* Polypharmacy – prescribing too many drugs at one time

* Drug interactions- when the drugs react with each other


Side effects and adverse drug reactions


How often have you asked your doctor about the possible "side-effects" of a medicine he has prescribed? The truth is hardly ever, because we are scared to ask too many questions, as a result of which our concerns get suppressed. Patients today play an inconsequential role in monitoring and reporting "adverse drug reactions" (ADRs).

This is a lost opportunity, as monitoring by patients can help identify drug reactions quickly and efficiently. We need to engage with patients, so they can play an active role in drug safety. Pill-popping is a habit that can become difficult to control, especially for patients with chronic illnesses, who are seeking quick relief. As laypersons, they are not aware of the side effects of most medicines, some of which can cause harm.

Pharmacists can play a crucial role in making patients aware of the dangers they are subjecting their bodies to, especially with the overuse of over the counter (OTC) drugs. This is especially necessary in a country like India, where many medications can be obtained from a chemist store, even without a physician's prescription.

Sadly, many chemist shops today still do not have a qualified pharmacist. The FDA has now cracked the whip, and hopefully the new rules will help to improve drug safety in India.


How can we combat the menace of spurious drugs?
Fake drugs form 20% of the Rs 40,000 crore pharma market in India. Counterfeiting can happen with both generic and branded products. Pharmaceutical companies have launched many initiatives to help curb the menace of spurious drugs. These include: holograms on their packaging, which are hard to duplicate; and the use of barcodes on medicines that can be photographed using smartphones, and the image messaged to a number, to check that the batch is authentic.

Clever companies such as PharmaSecure also offer a "track and trace" SMS verification system which is aimed at giving every consumer the power to check her drug. The user just needs to SMS the code, and not only does she receive confirmation that the product is genuine, she also receives information about the drug she is taking.


Are generic medicines safe?
About three-quarters of prescription medication are generics, but many patients still have a concern about their efficacy. The truth is that generics contain the same active ingredients in the same quantity as the branded drug. They are "tried and tested" and many reputed manufacturers now produce high quality generics, which cost a fraction of the branded products.
Ayurvedic medicines are extremely popular in India. However, many of these are manufactured in sub-standard facilities, and are often contaminated with toxic heavy metals and steroids. Just as allopathic medicines go through rigorous clinical testing procedures, herbal drugs too should be subject to similar testing, to confirm they are safe and effective. Because there is a shortage of qualified doctors in India, many AYUSH (Ayurveda, Unani, Siddha and Homeopathy) doctors will also prescribe allopathic medicines. This can be harmful, because they are not taught how to use these medicines properly. For example, many will use powerful injectible steroids to treat a fever, because patients demand instant relief.

However, these can have harmful effects, and patients need to understand that a good doctor trained in a particular system of medicine will only prescribe medicines developed by that system.


Preventing harmful drug interactions
Some medicines can interact adversely with other medicines, foods and dietary supplements. To prevent drug interactions, the patient be treated with as few medicines as possible. Many good doctors follow the rule that if they need to start a new medicine, they will think about which old medicine they can stop. Sadly, it's common to see many elderly patients taking dozens of drugs daily.

They often don't have a clue why they are taking the medicine or why it was started in the first place. Doctors rarely bother to review all the medicines the patient is taking, because most specialists focus only on the particular organ which they are treating, and are unaware of what the other specialists have prescribed. A good chemist can do a "brown bag" review, where he asks the patient to bring all the medicines he is taking, so he can advise him as to which ones are essential, and which can be safely stopped, after discussion with the doctor. Illegible medical prescriptions – Disasters waiting to happen Messy and illegible handwriting can result in many errors, such as the wrong drug, incorrect dose, and/or incorrect route. The situation is more complex in India because of the availability of multiple brands of the same medicine with similar-sounding trade names that can confuse doctors, nurses and the dispensing pharmacists. Sadly, doctors seem to take a perverse pride in how poor their handwriting is. An ideal prescription should be printed, or legibly written in ink in capitals; it must include the following:

* Name, address, telephone number of the prescriber

* Date of prescription

* Generic name of the drug and brand name

* Dosage form, strength and total amount

* Any special instructions and warnings

* Name, address, age, sex of patient

* Signature or initials of prescriber

The Medical Council of India has prescribed a standard prescription format, and hopefully all doctors will start using this soon. The use of computers to print out prescriptions can also help to reduce the chances of errors. E-prescribing or electronic prescribing is a viable solution to counter the shortcomings of the current paper based prescribing processes. However, accessibility and cost barriers have slowed adoption. There are lots of successful pilots, and the beauty is that the prescription reaches the pharmacy even before the patient does. It also allows for home delivery of the medications, thus adding to the patient's convenience.


How can medication errors be reduced?
Here are some simple tips which doctors and chemists can follow, to help ensure patients tke their medicines properly:

* Indicate the dosage in clear terms

* Use words instead of numbers, for example "Take one tablet every day" instead of "Take 1 tablet every day."

* Use units which are familiar to the patient, and for which they are likely to have suitable measuring devices.

e.g. "Take two teaspoonfuls every six hours." instead of "Take 10 ml. ..." * In some instances it may be critical that an exact volume, such as 2.0 ml, be administered. In such a case, a properly calibrated measuring device should be provided along with the mdication.

** Specify the route of administration if the medication is not intended for oral use.

E.g. insert one suppository vaginally every night at bedtime.

* Do not use abbreviations

. e.g. "Take two capsules twice a day." not "Take two caps twice a day."

* For illiterate patients, it is a good idea to include photos of what the medicine bottle/ capsule/ tablet looks like, so the patient can visually check he is taking the right medicine.

** Provide clear and legible printed labels on the dispensed medications, so that patients know exactly what they are taking

* Encourage patients to use pill organizers and dispensers, so they remember to take the right medicines at the right time. This is especially helpful for older patients, who are often on many drugs, and may suffer from poor eye-sight or a failing memory

* The visual "Universal Medication Schedule", a health literacy-based tool to improve medication adherence, can also help to reduce errors.


The visual "Universal Medication Schedule"
Making patient information leaflets more patient-friendly
One way to prevent medication errors is to educate the patient. Pharmaceutical companies are required by law to provide patients with medication information in the package, and chemists and doctors should encourage patients to read these leaflets. These are supposed to help patients take their medications properly, but most leaflets come with the following problems:

* Small text, crammed together

* Poorly printed, small, and hard-to-decipher warning labels' symbols

* Unclear, non-standardised instructions

* Complex language that can be hard to understand

I wonder how many patients bother to even read these leaflets, leave alone understanding what they convey. The information doesn't seem to be designed with the patient in mind at all. It appears that pharmaceutical companies print leaflets just to comply with the regulations and to protect themselves from lawsuits should the patient suffer a complication as a result of the drug.

Not only does this represent a missed opportunity to educate patients; unintelligible leaflets are actually a potentially grave risk to the health of patients, who are often clueless about the side effects and complications of the medicines they are taking because the leaflets are unreadable.

There are some great examples of well-designed patient information leaflets @ https://www.choiceandmedication.org/cnwl/. These serve as a very good model for how pharmaceutical companies can teach patients the information they need to know about their medicines. The pharmaceutical industry needs to adopt the motto: "Educate before you medicate! The UK Medicines and Healthcare Products Regulatory Agency (MHRA) have also issued guidelines to help improve package inserts:

* Use plain language, simple punctuation, short paragraphs, and bullet points

* Use an easy-to-read font

* Use headings and colour to help patients navigate the text

* Consider the use of simple, easy to understand symbols and pictographs

The full guidelines can be accessed at https://www.gov.uk/government/organisations/medicines-and-healthcare-products-regulatory-agency