It is good to learn what to avoid by studying the misfortunes of others. Publius Syrius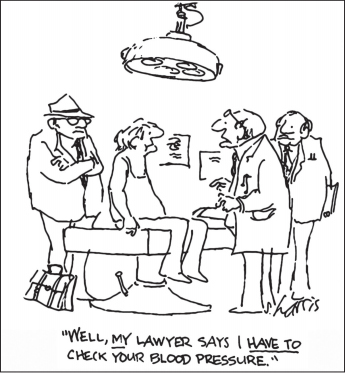 Practicing medicine can be risky , because each medical procedure carries with it a probability of therapeutic benefit, as well as risk. Risk management is the process by which the medical team takes steps to reduce their professional liability. It has the following objectives:

* To define instances that place the physician at risk, and to determine their frequency and significance

* To apply this awareness in the treatment of individual patients

* To develop remedial and preventative measures to prevent loss and/or injury

An important focus of risk management is to provide a safe environment for the patient while fostering the patient-physician relationship. The patient who has had a poor outcome is like a time bomb that may explode if she is not handled with care and tact. The most important skill needed is that of patient communication: of being able to talk and explain to the patient what went wrong, and why.

Risk management involves learning how to minimize the adverse impact of errors. Patients who like their doctors feel a sense of loyalty and friendship towards them. They are much more inclined to resist the notion of suing even if things do go wrong. This is why the majority of patients who experience an adverse event because of an error do not sue their doctors. Unfortunately, arrogance seems to be second nature for some doctors in India and, as Tuthill puts it, - "If you act like God you'll be expected to perform like God" and that's a sure invitation to a lawsuit.
The doctor's responsibility when a problem occurs
No matter how careful you are, errors will occur. After all, medicine is a messy biological system, and you are not perfect. First, remember what not to do - don't lie; don't hide; don't pretend; and don't push off the unpleasant duty of talking to the patient or his relatives, to someone else- it's your responsibility and only you can do it properly. Don't make a bad situation worse by running away from it! Unfortunately, the first response is often to bury the error and hide it - but this often makes matters worse.

Here are a few things that doctors should be doing:

* Junior staff members should report all incidents to their seniors, who can take appropriate steps. After all, with seniority comes experience-and often your seniors will have encountered similar problems in the past, and will know exactly what to do. Their advice and guidance can be invaluable.

* The first priority should be to attend to the patient's medical needs. Take responsibility for dealing with the problem, asking for consultation and making arrangements for follow- up.

* Discuss with all staff members the factual details and sequence of what occurred, and attempt to reconcile any opposing perceptions of what occurred. Coordinate your response, to ensure that everyone is on the same page.

* When a serious adverse event occurs, expressing sincere sympathy and compassion to the patient and/or family is often the most important response to help diffuse a potentially volatile situation.

* As soon as possible after the event, factually record the incident and medical response and document plans for further follow-up. It's a good idea to ask the most knowledgeable and senior staff member to do this.

* However, do not ever alter (or allow anyone else to alter) any prior documentation, or insert backdated information. Ill-advised record alterations can render otherwise defensible cases almost impossible to defend.

* Do not use the medical record to speculate or air grievances about other caregivers, equipment, or administrative processes.

* Be accessible for questions from the family and the patient. Repeated requests for an explanation of the event is a common reaction of upset patients and family members - be empathetic and don't get irritated!

** Be honest with the patient and family - if you try to wriggle your way out by lying, you may find yourself trapped in a quagmire from which it may be very difficult to extricate yourself later.

Organize a family meeting if several relatives are involved in the patient's care or if treatment decisions are complicated. Empathize with the family and offer emotional support. Your goal should be to show compassion for the patient's distress, without admitting liability. This can be tricky, but you need to find the right balance!

Accept responsibility for follow-up of serious complaints, but do not accept or assign blame, or criticize the care or response of other providers. The best approach is a rational one - describe the incident and medical response in brief, factual terms and if additional follow-up is indicated, discuss those plans with the patient.

If the event involved a medical device or piece of equipment, preserve these materials for investigation. Do not return defective devices to a manufacturer who may be a possible party to a claim. Important medical data such as X-rays, ECGs and pathology slides should all be carefully preserved following an adverse event.

Patients today have higher expectations of the medical care they receive. They expect their doctor to have excellent technical skills and to apply his medical knowledge expertly to their problems. They expect value for the money they spend on medical services, and they also demand to be treated with respect, courtesy, and caring. When they find their expectations belied, they turn into critics and even plaintiffs.


The nitty-gritty
Ensure that you have adequate professional liability insurance. Indeed, it would be foolhardy for any doctor today to practice without taking out comprehensive coverage for malpractice insurance, and fortunately insurance premiums in India are still reasonable. While coverage will not prevent you from being sued, it will help to mitigate the possible financial impact on your resources.

It has been said that the medical record is a defendant physician's only friend, or foe. In every malpractice case, attorneys for both sides scrutinize medical records carefully, looking for specific types of evidence that will bolster their respective cases. Every medical record has a potential for legal scrutiny, and it serves as a legal record of the care provided to the patient. The rule is simple: if it is not documented it did not happen! Missing data, poorly integrated information, or diagnostic conclusions that are not logical or are not properly recorded, leave an impression of sloppy practice and poor physician judgment.

If you want to reduce your risk of getting sued for malpractice, follow these simple suggestions: * Be a nice person. Be pleasant to be around. Be agreeable and friendly. While being nice is no guarantee that a patient or family is not going to sue, they are far more likely to sue you if you are unpleasant, obnoxious and rude.

* Do not criticize other doctors and their care: after all, what goes around comes around, and your criticism may backfire in the long run.

* Many doctors have now started practicing defensive medicine, in order to reduce their risk of being sued. While a small dash of paranoia can help to reduce risk, you should not let this get out of hand.

* When you make a mistake, admit it-promptly. The reason for this is that when we lie, we send off signals that something's not right, and most people can spot that a mile away. If you are honest and forthcoming with patients and family, they are more inclined to forgive you, and far less inclined to sue.

* Be open and accessible. Don't hide from your patients. Don't avoid them and don't abandon them. Make it a point to be reasonably available to your patients. * If something doesn't make sense, say so. If you don't understand something, tell the patient. And if you don't have all the answers, tell the patient that, and say that you will find someone who does have the answers.

* Keep up to date professionally, and don't do things you are not competent to do. This is just a part of being honest with yourself. Know what you can do, and do it. Know what you can't do, and don't do it. Being competent as an individual is not enough. You are in charge of the entire medical team caring for the patient, and you need to ensure that your staff too is competent. They will learn from you, and it is your responsibility to teach them well!

* Realize your own limitations, and ask for consultations and referrals to seniors when necessary. Medical knowledge requires maintenance and the medical team needs to keep themselves updated

Life is full of the unexpected, and this is especially true in an inexact science like medicine. No matter how careful and conscientious you are, problems are bound to occur. If you are prepared for these, and have a plan of action to deal with them, you will be able to cope much better when they do crop up.